<< All News
Tuesday, April 18, 2017 - 08:00 am
Categories: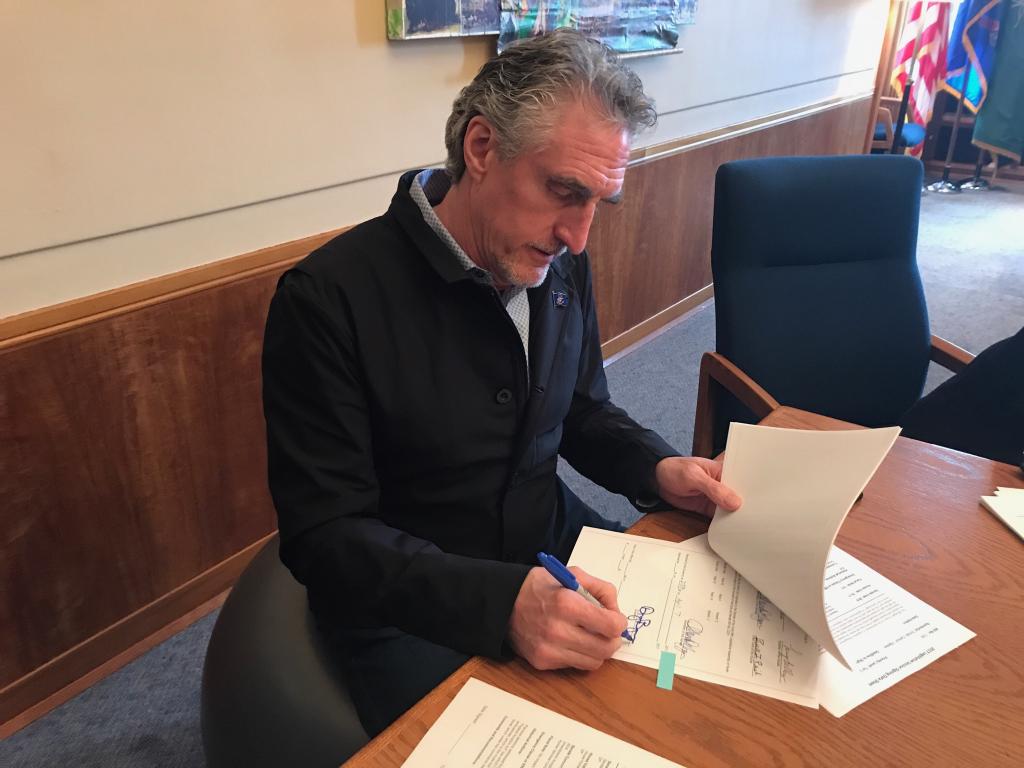 Governor Doug Burgum signing Senate Bill 2231. Photo by Robbie Lauf.
BISMARCK, N.D. – Insurance Commissioner Jon Godfread today praised the signing of Senate Bill 2231, regarding the regulation of how insurance companies pay for air ambulance services in North Dakota. The bill also requires hospitals to notify patients in non-emergency situations which air ambulance providers have a contractual agreement with the patient's health insurance company.
Air ambulance has become a more frequently used mode of transport for individuals needing medical care. Often these patients are then faced with unexpected and outrageous bills for the full cost of the flight or the balance left after a partial payment is made by the patient's insurer, a practice known as "balance billing." Insurance does not cover the cost of an air ambulance when the ambulance provider does not have a contract with the patient's health plan, even if the patient is one of the 88 percent of North Dakotans who have health insurance.
"It's important to know that these lifesaving flights often come with life-altering bills, and what is most frustrating to the Insurance Department is that many of the complaints we receive are from people who have insurance, have been responsible, and through no fault of their own, are facing insurmountable balance bills from an air ambulance company," Godfread said. "These consumers did not have the option or ability to choose their provider, and now because of the choices made by someone else, are left facing bankruptcy."
From 2013 through January 2017, the Department has received 28 complaints totaling $1.66 million in charges for air ambulance services, excluding one case in which the total for services rendered is unknown at this time. Based upon these complaints, each air ambulance ride has costed the consumer $59,287 on average. Consumers in North Dakota, have reported being billed amounts ranging from $75-$66,597. However, these numbers don't include the hundreds of complaints that have been made directly to insurers regarding air ambulance services.
Senator Judy Lee (R-West Fargo) was the bill's primary sponsor and instrumental in its passage. "It is important to protect citizens in critical medical situations from unexpected high costs beyond what insurance covers,"  Lee said. "It also is important to keep this issue visible to the federal government.
Air ambulance services are also used for inter-hospital transfers when a patient requires treatment at a different facility. According to Godfread, it was common sense to add a requirement for hospitals to notify patients in non-emergency situations which air ambulances have contractual agreements with the patient's insurance company to the bill.
"I feel this legislation strikes a balance between ensuring we have these services in our state, while at the same time protecting our consumers from bankruptcy," Godfread said. "Consumers in North Dakota should not have to choose between saving a loved one's life and facing financial ruin, especially when they have health insurance. I am proud of the work we have done to find a solution by working within our insurance regulations to protect the consumers of North Dakota. I also want to commend the Governor and the Legislature for addressing this critical problem that is not only affecting North Dakota, but has become an epidemic across the entire nation."
For more information on concerns regarding air ambulance services, see the March 2017 ConsumersUnion Health Policy Report. You may also see the signed version of SB 2231.  
<< All News